16 Random Facts That Will Increase Your Approximate Knowledge of the World - Tarzan's yodel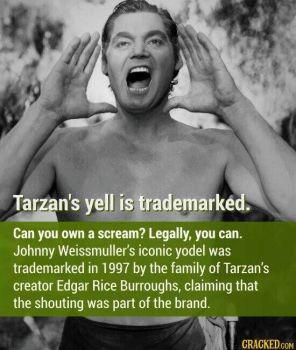 Why are you reporting this puzzle?
From an article by Andres Diplotti at the comedy website Cracked.com, June 9, 2021.

His intro:

You know what's better than knowing a lot of things? Exactly -- knowing even MORE things! The more you know, the more interesting you are -- that is a science fact. We at Cracked strive to make you as interesting as humanly possible, so we regularly compile these collections for you. It's OK, you don't need to thank us.
Are you curious about how do we review content on Jigidi?

At Jigidi, we celebrate what connects us and steer clear of divisive content because how we meet each other matters. It forms us. When we review the content, we use four 'lenses' and look for what the image or comment is most.