This Gun for Hire (1942) - movie poster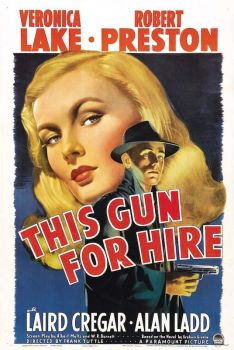 Why are you reporting this puzzle?
Another on my series of movie posters. I try to present a wide range of movie types from all eras. And while I prefer the artistic or historical ones I love the schlocky ones for horror movies because they're fun and reflect popular culture. I remember how Veronica Lake - man, she was beautiful - wore that famous peek-a-boo hairstyle. I laughed at one movie poking fun at it. A guy takes his date to a dance hall and as they enter the seated young ladies turn towards the door - all having the same peek-a-boo style. Fads are fads such that the US government asked her to change it so that ladies would not get their hair caught in factory machinery used during WW II. She unfortunately suffered from alcoholism and it hurt her career. I liked her in the 1941 movie "Sullivan's Travels" and the 1942 comedy "I Married a Witch". She left this world young at age 50.