The New Yorker - October 19, 1957 / cover art by Anatole Kovarsky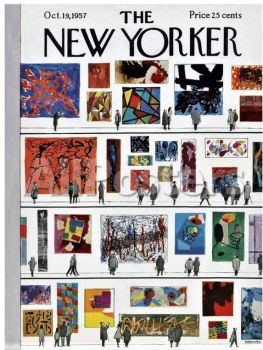 Why are you reporting this puzzle?
Anatol Kovarsky's Cartoons About Art -

Anatol Kovarsky (1919-2016) was born in post-revolutionary Russia, lived in Poland and France until 1941, then was able to escape to the USA. He became a cartoonist for The New Yorker magazine, later concentrating on painting. Between 1947 and 1969, he drew numerous pantomime cartoons and designed several covers for The New Yorker. Two recurring themes in his work were the art world and Greek mythology.