Remembering Lucky -- our friendly GIANT
Why are you reporting this puzzle?
Febr. 1972 - 3 August 1990
He was our first kitty boy of our married life from 6. February 1973 until 3 August 1990.
After we just got married December 1972 we got a place of our own and moved in on 3. February 1973. We had discussed to wait to get a cat while I was also working full-time, we figured it wouldn't be fair to leave a cat home alone all day. We both have always had cats in our lives so it wasn't easy to spend our first weekend without a cat (yes, even as being newly weds☺☺).... I did seem to see a cat everywhere in our new home, I almost started talking to my handbag sitting on a chair when I took it for a cat.☺ My hubby watched how I 'struggled' and decided to surprise me. While I was totally unaware at work he took Tuesday afternoon off and went to the rescue shelter.
When I came home from work that Tuesday I walked up the stairs and heard him talking to 'someone' so I thought we had a visitor. I took off my coat and went into the living room to see who it was and there I saw this huge handsome cat walking in our room not really scared but cautiously greeting me. I instantly fell in love and forgot all about our plan to wait to have a cat!
In the shelter they figured he was about 11 months old. Within 14 days he still could be claimed by his 'owner' before we could officially adopt him so I had 14 terrible days hoping he wouldn't sit in the windowsil sothat someone would recognize his of her cat and we had to give him up again. Luckely for us nobody ever claimed him so we could call him OUR cat.
He had the size of a medium dog and weighed 12 kilos in his 'good' days. He didn't want anything to do with babies when our first son Patrick was born in 1975, but he did wake me up every night @3:30 AM stipt the first six weeks when he was crying . Lucky would get a treat during those nights whilst I was warming up a bottle. But when Patrick finally slept through the first night, Lucky woke me up @3:30AM but I didn't hear our son cry! I stayed in bed and told Lucky to do the same! LOL
One early morning at 6:30 in 1976 Lucky woke me up and he was growling, I had no idea why he did this. After I got up and opened the curtains I noticed that our car which was parked on the street in front of our home was stolen. Men at work on our pavement told us they had seen two young men get in the car and drive off! We did get the car back in one piece (it was parked along the highway in Rotterdam), but I'm still convinced Lucky wanted to warn us about our car getting stolen!
So many great memories of our 'first' cat coming into my head again even after such a long long time!

Lucky was our friendly Giant for 17½ years!!!
More jigsaw puzzles in the Cats category
0:09
like92115
11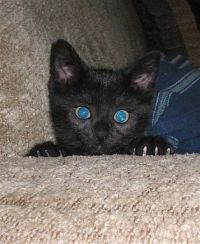 12:12
veruka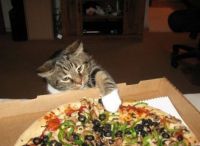 6 July 2016 - 29 January 2014