The Women (1939) movie poster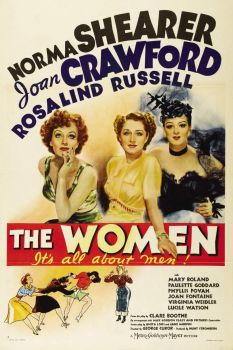 Why are you reporting this puzzle?
The Women (1939) was directed by George Cukor who became free to do so when he was fired as director of "Gone with the Wind". He was always considered a woman's director but he did not care for that label. He had a long productive career beginning in the 1929. This then led to being director for "Philadelphia Story", "Gaslight", "A Star Is Born" with Judy Garland, and then in 1964, "My Fair Lady" for which he won the Academy Award for Best Director. He was known as homosexual in Hollywood society but on the down-low, hosting elegant parties at his residence, and was considered the head of the Hollywood gay subculture. His impact goes beyond his directorial roles as this piece from Wikipedia states:

Cukor spent a week on the set of The Wizard of Oz (1939). Although he filmed no footage, he made crucial changes to the look of Dorothy by eliminating Judy Garland's blonde wig and adjusting her makeup and costume, encouraging her to act in a more natural manner. Additionally, Cukor softened the Scarecrow's makeup and gave Margaret Hamilton a different hairstyle for the Wicked Witch of the West, as well as altering her makeup and other facial features. Cukor also suggested that the studio cast Jack Haley, on loan from 20th Century Fox, as the Tin Man.

"The Women" had 130 speaking roles and all were women. In fact any pets that appeared were female. I still love the film after all these years. Why do I love and know these films of the mid-twentieth century? TV of course. My mother gave me a love of movies - and commented on them to me. It was a cheap, easy way to escape family life that was not as fairy-tale as the movies we watched. As I became older I explored other movies - especially shorts, silents, and foreign. One of the greatest films made is "Potemkin", a 1925 Russian silent film by Sergei Eisenstein about the 1905 mutiny aboard the Battleship Potemkin. Just as moving and savage today as then is the scene of the storming of the Odessa Steps. And one of the most brilliant comedians in film history is Harold Lloyd. Laurel & Hardy still make me laugh - their shorts are great.
How many accounts can a person have on Jigidi?

1 account; or 2 if you have a creative need for a second account - but this requires transparency in your profile descriptions that you hold both accounts. To trust each other and interact with our shoulders down and hearts soft, we all must know with whom we are communicating.

Read more about what to do if you have more than one account on Jigidi.