The proclamation of the German Empire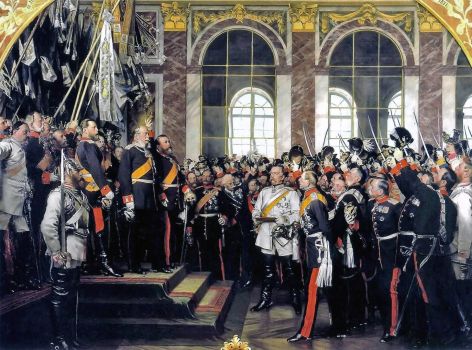 Why are you reporting this puzzle?
France and Prussia had a war lasting from July 19, 1870 to January 28, 1871. France was defeated because they had underestimated the power of Prussia. On January 18, 1871 Wilhelm I was proclaimed German Emperor in the Hall of Mirrors of the Palace of Versailles. The kingdoms of Bavaria, Württemberg, and Saxony, the states of Baden and Hesse, and the free cities of Hamburg and Bremen were unified with the North German Confederation to create the German Empire. The final peace treaty, the Treaty of Frankfurt, was signed on May 10, 1871. Otto von Bismarck was able to secure Alsace-Lorraine as part of the German Empire. Resentment against the French government led to the establishment of the Paris Commune in March 1871 by Parisian workers and members of the National Guard. The radical socialist government lasted through late May 1871.