"CONNECTION "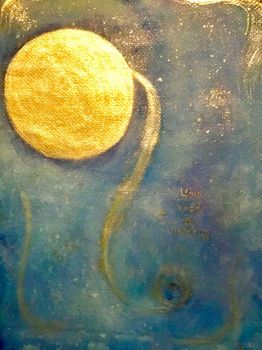 Why are you reporting this puzzle?
"CONNECTION "

By Sophia
Watercolor, metallic paint, metallic pen

"You need do nothing"
~A Course in Miracles

ANOTHER CIRCLE. . . REALLY? So these paintings that repeat their symbols! A circle, a tear, the woman from the back, the trees, the windows. . . What is that all about? Same old thing over and over? Why bother?

The symbols are meaningful and familiar forms of communication ~ tear of joy or sorrow? Look at the colors, look at the density of the colors. Find the emotion that is being expressed. Lighter colors express lighter emotions. Darker colors denser emotions. Do the paintings express hope or despair?Ambivalence? The woman from the back? Stepping back from oneself to see/feel what is going on within at the moment. Again, what is the feeling you get from any of the paintings? Not how "good" is it? (It's always nice however, when they do come out to be lovely.)

It's not about how artistically perfect the painting looks, but rather how well it shows the person who is painting, what they are truly feeling in the moment. To give them insight into their own emotional state. That is the definition of "Art Therapy".

Some of my most artistically gifted students were the worst at expressing and discovering their inner feelings. They could not by-pass their technical artistic training.

Those who lacked that training and had seemingly "poor quality" artistic skills, were often explosive in their ability to express those emotions that they were holding inside.

"Beauty is in the eye of the Beholder"✨
How many accounts can a person have on Jigidi?

1 account; or 2 if you have a creative need for a second account - but this requires transparency in your profile descriptions that you hold both accounts. To trust each other and interact with our shoulders down and hearts soft, we all must know with whom we are communicating.

Read more about what to do if you have more than one account on Jigidi.