15 Weird Ways Celeb Couples Met - (Seinfeld)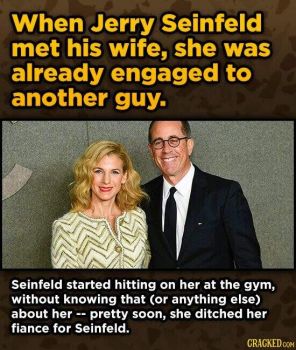 Why are you reporting this puzzle?
From an article by Andrea Meno posted at the comedy website Cracked.com.

The Intro:

When Dog the Bounty Hunter caught a woman who shoplifted a lemon, he probably wasn't expecting he'd marry her someday. Here's the full story, plus 14 others...
How do you follow a puzzle creator?

Do you have one or more jigsaw puzzle creators on Jigidi whose puzzles you are always looking for? Then you might consider "following" them, which means you'll receive a notification upon their newest postings.