David and Goliath (1599) by Michelangelo Merisi da Caravaggio - 1st version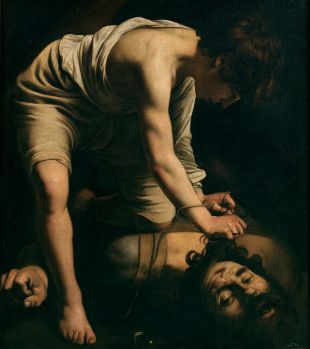 Why are you reporting this puzzle?
Michelangelo Merisi da Caravaggio painted three versions of David and Goliath of which this is the first from 1599. David is a youth who has just slain the giant Goliath. His boyish face is cast in shadow. As a result it is Goliath himself who has become the focus of the piece. Just this version portrays the behemoth's armored body. The fist is clenched - as if there is still tension in the corpse. Being just slain his face has a certain self awareness as seen in its outward gaze with the mouth agape. Why is this villain the main attraction? In my reasoning it is because the head is a self-portrait of Caravaggio himself who has provided the viewer with shock value as well as morbid vanity. At the same time he has been a good servant to the faith staying true to the Biblical story. Ever the rebel, maybe the artist is sticking his thumb in the eye of Authority, e.g. the Church. What a scoundrel! You gotta love him.
Did you know you can invite a friend to a jigsaw puzzle?

Sometimes we come across a fantastic puzzle or interesting comments and think of a friend who would appreciate sharing our experience. Here is how you invite a friend to a jigsaw puzzle on Jigidi ☺