June 2, 1951 - The New Yorker / Cover art by Garrett Price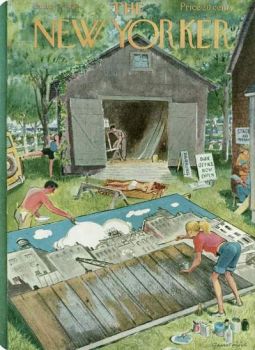 Why are you reporting this puzzle?
About the artist - Garrett Price:

Garrett Price (1897 - 1979), was an artist and cartoonist for The New Yorker magazine and was a longtime resident of Westport, Conn.

Mr. Price's cartoons and covers appeared in The New Yorker, Colliers and other weekly magazines over the last 50 years, and a collection entitled "Drawing Room Only" was published recently by Coward‐McCann. His work was also well represented in "The New Yorker Anniversary Albums."

The son of a Wyoming horse-and-buggy doctor, Mr. Price grew up on a farm at Saratoga, Wyo., where he began sketching animals and people at an early age.

Drew for Kansas City Star

He attended the University of Wyoming, which now has a library of his work, and subsequently attended the Chicago Art Institute. There he became close friends with some New Yorker artists, Perry Barlow, Alice Harvey and Helen Holunson. During this period, he shared a studio with the two women artists in the old Tower Building on North Michigan Avenue.
-----------------------------------------------------------------------------------
If this sounds "very NY" it is because it is drawn from a New York Times obituary, published April 10, 1979.
Are you curious about how do we review content on Jigidi?

At Jigidi, we celebrate what connects us and steer clear of divisive content because how we meet each other matters. It forms us. When we review the content, we use four 'lenses' and look for what the image or comment is most.