Frankenstein (1931) movie poster in Spanish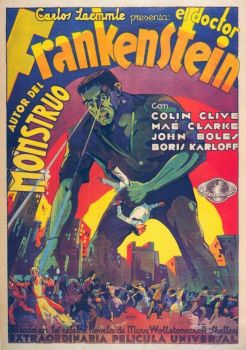 Why are you reporting this puzzle?
It's interesting to see how other cultures present our horror icons in movie posters. This one really says it - from the fleeing urban crowd to the death beams emanating from his eyes. And poor Dr. Victor Frankenstein, the Italian-Swiss scientist who dared to play God, is in the Monster's clutches. The poster has a very Art Deco feel. I think it's an exciting, colorful, and scary movie poster. In the 1930's and 1940's people could not view trailers - they might have seen previews in the theatre before - so the posters were used to inform the public and lure in customers. The other big draw for film patrons was "Come Inside. It's cool!" and free dishware. Theatres used to have ashtrays for your convenience too. And intermissions. And ushers in uniforms. And newsreels, serials, cartoons, double-features, cry rooms, smoker's lounge. There are still Jujubes, my favorite because they lasted forever, but they no longer have real jujube fruit juice. One more thing - we had to dress up, kinda like Sunday School, to go to the movies.