Apres le Depart du Train des Maris (The Husband Train is Gone)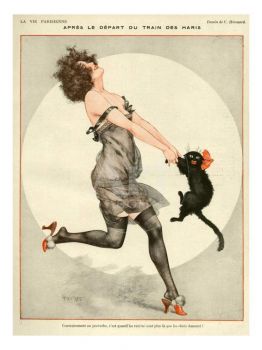 Why are you reporting this puzzle?
With increased leisure time French wives and children would vacation at North Sea resorts for weeks while their husbands continued to labor. On Saturdays though express trains would transport the husbands to be with their families until they went back to work on Monday. These came to be called "le train des maris" or husband trains. This 1923 French illustration is of a happy wife after her spouse has caught the train back to Paris. Why is she is so happy? Is it because there was also "le train des amants" or lover trains that arrived on Mondays and then departed by the weekend? C'est La Vie.